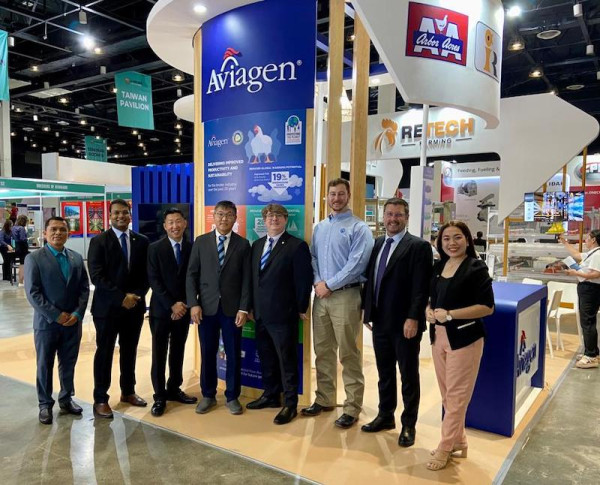 BANGKOK, Thailand. – The Aviagen® Asia Pacific Arbor Acres®, Indian River®, and Ross® teams were excited to demonstrate their commitment to supporting the success of local poultry producers at the Livestock Philippines international trade fair. The event took place from July 5-7 at the Metro Manila World Trade Center in Pasay City.
Aviagen Asia recognizes the importance of strengthening the poultry sector in local markets and actively contributes to its growth. As part of this commitment, the company regularly shares valuable management knowledge with farmers throughout the Philippines and across Asia. The ongoing goal is to increase productivity and profitability for these dedicated producers who play a vital role in providing healthy chicken meat to families across the region.
Opportunity for knowledge-sharing
Leading up to Livestock Philippines, Aviagen participated in a pre-event roadshow organized by Livestock Philippines on June 14. At the roadshow, Arbor Acres Technical Service Manager Dr. John Tchang shared his expertise on male management for high chick output and helped promote Livestock Philippines. During the event itself, on July 6, Aviagen International Product Manager Dominic Elfick led a seminar on "breeding sustainability." Elfick emphasized Aviagen's balanced breeding approach, which focuses on improving the health and welfare of its breeds while enhancing performance and sustainability factors such as healthy growth rate, livability, meat yield, feed efficiency (a key sustainability driver), and environmental resilience.
Sustainability recognition
The Aviagen Asia team consistently demonstrates its commitment to sustainability, not just in words, but through concrete actions. Their dedication to sustainable practices has been acknowledged by show organizers, "Informa Markets," who have recognized the Aviagen booth for its exceptional sustainability in design for two consecutive years.
Making valuable connections
In addition to connecting with farmers, veterinarians, nutritionists, and others, the Aviagen team was honored to welcome the President of the Republic of the Philippines Ferdinand R. Marcos, Jr., to their booth during his tour of the show. The president chatted with a number of staff and commented that, "There is always more to do to help feed our country."
Rafael Monleon, Business Manager for Aviagen Asia Pacific, expressed the company's satisfaction in meeting local poultry producers for the second consecutive year at Livestock Philippines. Monleon stated, "We are fully committed to the poultry sector in the Philippines and to supporting the hard-working farmers who contribute to its success. Our strategy is to consistently supply them with top-quality breeding stock, world-class support, and the latest management innovations."
Global reach, local touch
Aviagen takes pride in its "global reach, local touch" approach, ensuring a reliable supply of poultry breeding stock to farmers worldwide, while meeting the specific requirements of local customers. By expanding its bases across the globe, Aviagen has been able to reach farmers in diverse regions, while simultaneously providing them with essential management advice and tools in their native languages. In line with this commitment, Aviagen Asia has recently launched web pages featuring translated documents in Bahasa, Korean, Thai, and Vietnamese. Recognizing the importance of Tagalog, one of the most widely spoken languages in the Philippines, Aviagen has plans to launch a dedicated web page in Tagalog soon. This initiative aims to empower farmers in the Philippines by enabling them to access relevant information more efficiently and effectively.