BANGKOK, Thailand. – Aviagen® marks a significant entry into the Sri Lankan poultry market, allying with valued distributor Pussalla to introduce top-quality Ross® 308 broiler breeding stock to local poultry producers. The collaborative effort kicked off with a beneficial seminar hosted by Pussalla on Oct. 28. The event showcased how "Ross delivers" in heightening the success of poultry operations, strengthening their ability to empower local communities with sustainable, wholesome chicken meat.
The seminar drew participation from representatives of 21 poultry companies, collectively accounting for 80% of the country's day-old-chick production. During the event, the Aviagen Asia Pacific team engaged with Pussalla's valued customers, sharing invaluable insights crucial to their success in breeding healthy, high-performing, and highly efficient Ross 308 birds. Topics and speakers included:Teerapon Teerasin, Technical Service Manager, emphasized the significance of good uniformity in broiler breeder production.
John Tchang, Technical Service Manager, explored feeding management strategies during the laying period and beyond.
Venkatesh Gunasekaran, Poultry Nutrition Specialist, provided an update on the Ross 308 Parent Stock nutrition specification.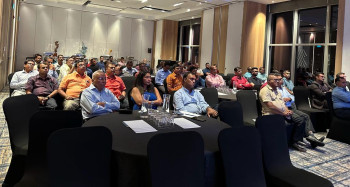 Larry Blackstone, Ross Brand Manager, extended a warm welcome to Pussalla's customers, setting the stage for an informative and productive gathering: "We were thrilled to welcome Sri Lankan producers and offer insight specifically tailored to their unique needs. We look forward to a rewarding journey of "Breeding Success Together" with Pussalla and their esteemed customers."
Reflections from Pussalla customers
"The Aviagen speakers did a superb job covering the Ross 308's overall performance with facts and figures and offering sound advice for maximizing its potential. Our customers were also impressed with the high broiler chick numbers produced by the Ross 308." ~ Dilshan Wewita, Managing Director, Pussalla Meat Producers Pvt Ltd.

"Our Nelna team is proud to have been part of the Ross 308 introduction seminar. We gained valuable insight into the importance of nutritional enhancements for optimal performance and recognized the impressive genetic potential of the Ross breed in our pursuit of reaching 188 eggs and 154 high-quality chicks per hen housed." ~ Asanka Nanayakkara, Director, Nelna Breeders Pvt Ltd.
"The insightful presentations revealed significant improvement in the genetic potential of the modern Ross 308 in each and every critical point of the value chain – from Parent Stock performance up to the final yield." ~ Neil Suraweera, CEO & Executive Director, New Anthoney's Farms Pvt Ltd.
"Our team benefited from the one-on-one meeting with the Ross 308 customer service team, with lots of opportunities to ask questions. Thank you for the productive seminar with great presentations." ~ A.B.M. Wafi, Deputy General Manager, CIC feeds Pvt Ltd.
"I want to express my sincere appreciation for the enriching and productive experience. With the support and expertise of the Aviagen team, I am confident we will work together to overcome obstacles, achieve our goals, and continue to thrive together. We look forward to the exciting journey that lies ahead as we work together to reach new heights of achievement." ~ Noordeen Sefhwala, CEO/Director, Noorani Estates Pvt Ltd.