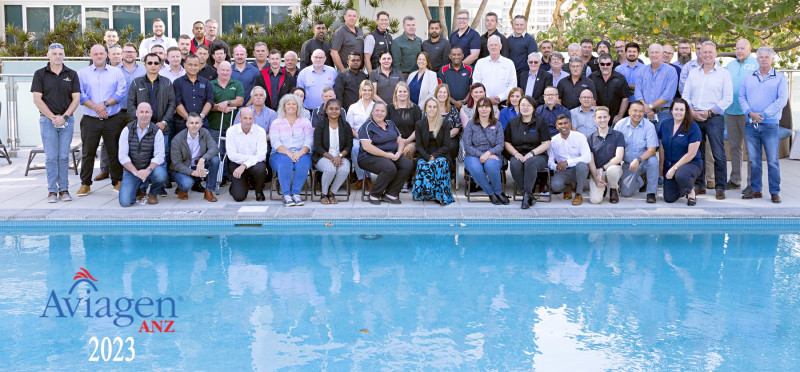 HUNTSVILLE, Ala. – The Aviagen® Australia New Zealand (ANZ) team recently hosted a highly anticipated annual customer seminar in Surfers Paradise in Gold Coast, Australia. Over two days, May 9 and 10, the event brought together 70 valued customers from Australia, New Zealand, Fiji, and Papua New Guinea for a dynamic and enriching experience.
The seminar served as a platform for idea and knowledge exchange, fostering valuable connections and networking opportunities among participants from various sectors of the poultry industry. Attendees were able to gain insightful and relevant advice from renowned poultry specialists representing Aviagen, academia, and the industry at large.
The seminar was designed to provide producers with practical guidance and expertise, equipping them with the latest advancements and strategies to enhance their poultry operations. The collaborative environment fostered meaningful discussions and encouraged the sharing of experiences and best practices among industry peers.
Here is a brief overview of the beneficial sessions:
Michael Leahy, Managing Director, Aviagen ANZ opened the conference by extending a warm welcome to all.
Poultry Health Scientist Richard Bailey joined on Zoom from Scotland. He spoke on the importance of early physiological development to optimize the performance, health and welfare of the Ross® 308. On day 2, he also provided his insight on coccidiosis control.
Peter Chrystal, Consultant Nutritionist from Complete Feed Solutions, engaged with attendees on the importance of precision nutrition in promoting bird health and robustness.
Dr. Susan Watkins, Emeritus of the University of Arkansas, addressed the group on the impact of water quality on bird welfare.
Along with providing an update on the latest genetic potential of the Ross 308, Dominic Elfick, International Production Manager of Aviagen Inc, underscored the pivotal role of data in driving the success of modern poultry enterprises.
Technical Services Manager Debbie Fisher explored with participants the importance of biosecurity.
Dr. Robin Achari, Group Technical Services Veterinarian from Ingham's Enterprises Pty Ltd, Australia, shared his deep knowledge on post-mortem surveys and techniques.
Peter Fisher, President of Aviagen Asia, engaged with attendees and in the end thanked them for their participation in a successful 2023 seminar.
Heartfelt response from attendees
The seminar was well received with great feedback from customers who attended. Eben Vermass, General Manager of Farming for Hazeldene's, Australia, commented "The seminar was a great opportunity to refresh our understanding of the important process of growing chickens. For me, the importance of water cannot be overemphasized. We will be refocusing on that element as it forms the basis for feed consumption."
Shelena Wiggill, Broiler Manager for Van Den Brink Poultry Ltd, New Zealand, said "It was great to attend the Aviagen Seminar and network with our industry colleagues. Informative guest speakers kept us engaged along with the Aviagen team, who go above and beyond for us as customers to achieve optimal performance."
Debbie Fisher, Technical Services Manager for Aviagen ANZ, stated, "These events are an excellent opportunity to bring together industry speakers to address subjects that are relevant to our customers, and their teams inside their operations. It is also a chance to reconnect with our poultry family from across the region."
Michael Leahy, Managing Director of Aviagen ANZ, summed up the seminar as "one of the best seminars we have put together for our customers. The speakers were on point with their presentations and attendees were very engaged. Aviagen remains committed to supporting our customers by facilitating platforms like the annual customer seminar, where industry professionals can gather, learn, and strengthen relationships. The event exemplified our dedication to driving innovation, knowledge dissemination, and fostering a united poultry community across the ANZ region. We look forward to seeing our customers again with another great event in 2025."