BANGKOK, Thailand. – The Asia Pacific team from Indian River® recently teamed up with Philippine Grandparent customer, Bounty, to launch a series of impactful seminars titled "Growth & Progress." Taking place over three days in different locations throughout the Philippines, the events aimed to empower poultry entrepreneurs with industry-leading knowledge and strategies. They highlighted the instrumental role of the Indian River breed in reshaping the poultry market toward increased sustainability and profitability. The seminars were attended by nutritionists, consultants, veterinarians, and flock managers representing poultry companies throughout the country, and the agendas were tailored to their specific needs.
Poultry breeding for sustained market success
The seminars commenced in Cagayan de Oro City and continued in Manila, ending in Pampanga. They featured industry experts from Indian River, Aviagen®, and Bounty, who shed light on the latest innovative trends in disease management, nutrition optimization, brooding techniques, and biosecurity. The longstanding and productive alliance between Bounty and Indian River, and the balanced qualities of the Indian River bird were also topics of conversation.
The highlight was the exploration of Aviagen's breeding strategies, with an emphasis on the Indian River brand. These strategies have empowered poultry producers to cater to their growing markets with a safe and healthy and affordable source of protein, while ensuring the protection of our planet.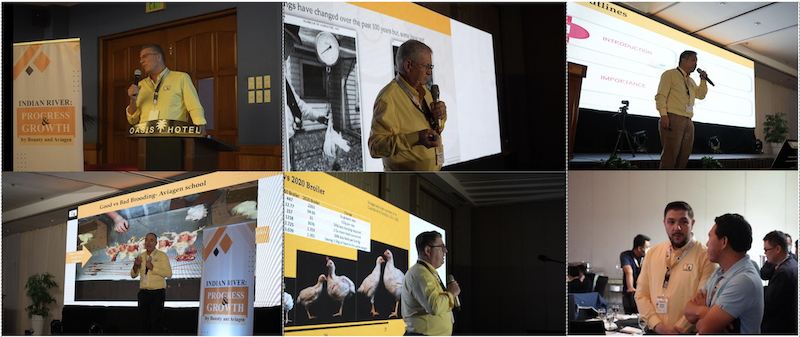 The bird that transforms the industry
Throughout the events, the Indian River team and representatives from Bounty engaged in in-depth discussions with attendees, showcasing the unique attributes of Indian River birds. The team addressed current challenges facing poultry entrepreneurs in the Philippines and across Asia Pacific, sharing insights and solutions based on the extensive experience of Indian River service team members and Aviagen specialists. Topics focused on further extending the consistently high chick production of the bird, by optimizing bird condition for egg production and hatchability.
"We care deeply about our customers in the Philippines and the consumers they serve. We're passionate about helping them achieve the highest performance, health and sustainability from their poultry," stated Dominic Elfick, International Product Manager for Aviagen. "The 'Growth & Progress' seminar is a testament to this commitment, equipping poultry entrepreneurs with the knowledge they need to drive the future of the poultry industry.