Ross 140 is now the Ross 150 Club in Slovenia and the Balkans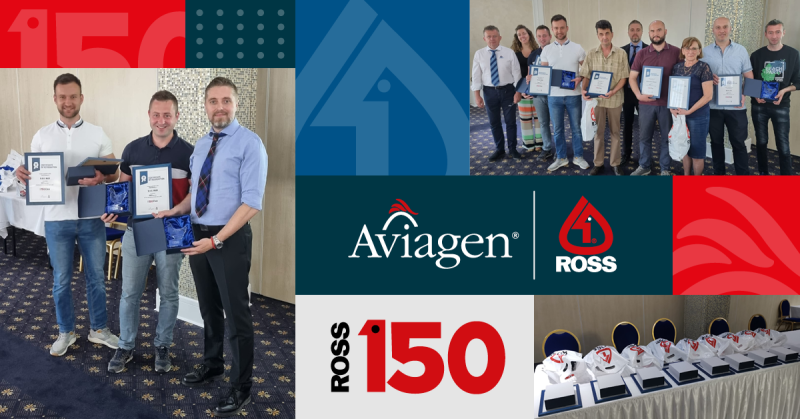 EDINBURGH, Scotland. – On May 12, the Aviagen® Kft. team came together with Ross® breeder customers from across Slovenia and the Balkan region. The purpose for the occasion was twofold: To introduce the Ross 150 Club to the region and welcome top-achieving customers who have met and surpassed the new higher entry requirement of 150 chicks per hen housed (h/h). Examples of breeder growers exceeding the new score are the winning flocks Perutnina Ptuj S with a result of 163.5 chicks/hen housed (hh), Madi doo with 161 chicks/hh, and Agroprodukt Sinkovic with 159.6 chicks/hh.
There to welcome these high achievers was the Aviagen Kft team: Regional Technical Manager Dejan Bosanac and Igor Zadravec, Technical Service Manager, joined by. Zoltan Marton, Senior Poultry Veterinary Technical Specialist; Ines Rodrigues, Aviagen Nutritionist.
The team then took the opportunity to discuss with customers current topics of relevance and importance in their region. These included management advice to optimize breeder production performance, providing best nutrition for the modern broiler breeder and prevention of infectious bronchitis disease.
Another highlight of the event was an overview of the Ross 150 Club for Aviagen Kft, region by region.
Jasmin Spahic, General Manager of Brovis d.d. was pleased with his team's results of 152.7 chicks/hh. "Well done! I am extremely proud of our colleagues who are passionate about our birds and work with them daily to make sure they receive the best care to maximize performance and overall health."
"I congratulate our new Ross 150 Club winners and couldn't be more proud of their accomplishments. Through skill and true commitment to their birds, these champions consistently outdo previous performance heights," added Dejan.
The Ross 150 Club made its debut in Hungary in December of 2021, and since then 12 Kft. customers have already become members of the elite Club.
Award recipients:
| | | | |
| --- | --- | --- | --- |
| Country | Year | Ch/HH 60 wks | Company |
| Bosnia | 2021 | 158.8 | D.O.O. MADI |
| Serbia | 2021 | 159.6 | Agroprodukt Sinkovic |
| Bosnia | 2021 | 163.5 | Perutnina Ptuj S |
| Bosnia | 2021 | 161.0 | D.O.O. MADI |
| Serbia | 2021 | 155.7 | Pile Prom |
| Serbia | 2021 | 152.8 | Farma Simic |
| Bosnia | 2021 | 159.1 | Perutnina Ptuj S |
| Bosnia | 2021 | 155.2 | D.O.O. MADI |
| Bosnia | 2021 | 152.7 | Brovis d.d. |