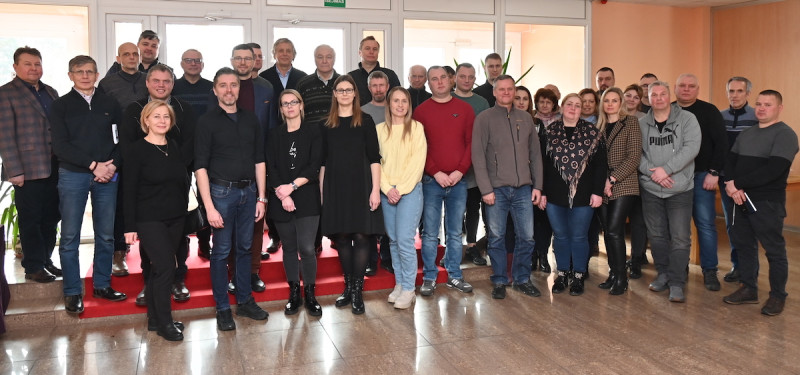 EDINBURGH, Scotland. – Maintaining proper ventilation in the poultry house is essential to promote bird welfare and performance. Aviagen Kft recently held a series of practical ventilation workshops to provide Lithuanian and Latvian customers with the latest advice for creating good ventilation.
Good advice and hands-on practice at customer farms
Led by Aviagen Kft's Regional Technical Manager Dejan Bosanac and Technical Service Manager Hannu Tiuttu, the events took place at Kaisiadoriu paukstynas poultry farms, that are located in Lithuania. In attendance were broiler and breeder farm managers and veterinarians from Linas Agro Group poultry companies: Kaisiadoriu paukstynas, Vilniaus paukstynas (Lithuania), Putnu fabrika Kekava, Bauska (Latvia) and some contract farmers – Lithuanian farmers.
"We are the largest poultry producer in the Baltic States, with a unique production chain from field to table. We control every production process, starting with the supply of feed for the broiler chickens, that we raise in our own poultry houses, to the delivery of finished chicken products to stores. We responsibly take care of every step of production so that the highest quality products reach consumers. Animal welfare is one of the most important components of our activity. We regularly review poultry breeding processes, look for innovative poultry breeding technologies. Also, we pay great attention to deepening the knowledge of our employees. By expanding our know-how, we look for and implement solutions, which would contribute to ensuring bird welfare. The training provided to employees on poultry houses ventilation gave useful theoretical and practical knowledge, that can be applied in daily work", - says Saulius Petkevičius, Head of Breeding of Linas Agro Group's poultry business.
Important topics included how to choose the correct ventilation type, achieve optimal air movement, and regulate the humidity and dew point.
Combining theory with practical application, the seminar included a visit to an empty broiler house, where participants were able to practice properly measuring fan ventilation capacity, minimum ventilation (with a smoke test), air speed, air pressure and air movement at the floor level. Attendees were asked thought-provoking questions that inspired beneficial conversations and idea sharing.
Both Hannu and Dejan were pleased with the seminar outcome:
"Poultry house ventilation demands constant attention and is undoubtedly one of the most significant aspects of bird care that can influence their well-being. That is why it is always a vital topic of conversation with our customers," comments Dejan.
Hannu adds, "We value our longstanding collaborative relationship with Linas Agro Group companies, and strive to deliver them the most current and best advice to get the most from their Ross birds. We appreciate the positive feedback from our Lithuanian customers, and look forward to the next opportunity to engage with them."