Membership in Ross 420 and Ross 150 Clubs continues to climb in Romania, the Republic of Moldova and throughout the region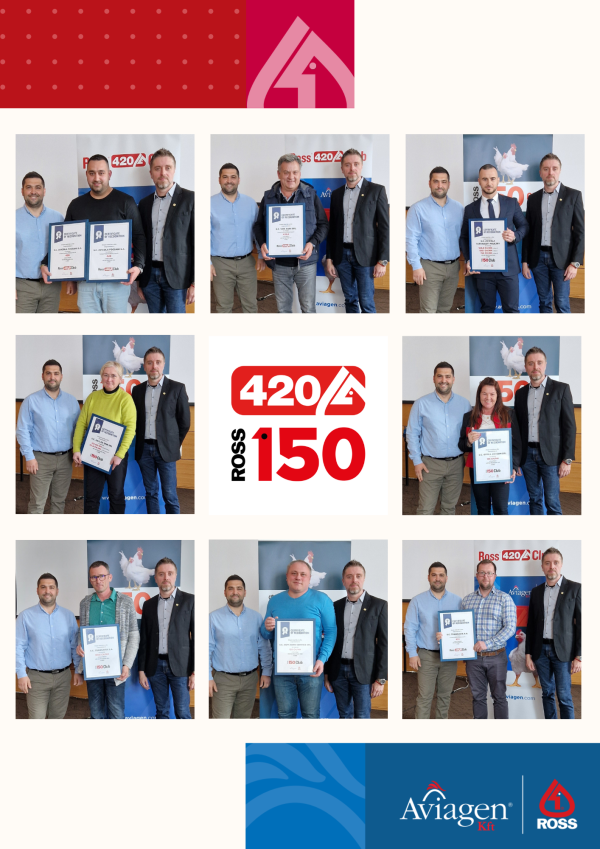 EDINBURGH, Scotland. – Aviagen® KFT is proud to announce the induction of the latest members into the exclusive Ross® 420 and Ross 150 Clubs, honoring the top-performing poultry farmers in the region. The Ross 150 Club recognizes Parent Stock performance of 150 chicks and over per hen housed. Likewise, the Ross 420 Club celebrates broiler growers who reach a European Production Efficiency Factor (EPEF) score of 420 or more.
The Aviagen KFT team organized an awards ceremony and seminar attended by 30 Aviagen Parent Stock customers and independent broiler growers on April 7 in Braşov, Romania.
During the event, Zoltan Marton, Senior Poultry Specialist Veterinarian, shared his insight on Avian Influenza and other topical diseases, emphasizing effective biosecurity measures that are instrumental in protecting bird health.
Paul Anton, Technical Service Manager, said, "It is with extreme pride that we honor the new Ross 150 and 420 Club members in the Republic of Moldova and Romania. Each year we continue to see new heights in bird efficiency, sustainability and welfare, which would not be possible without the hard work and dedication of farm managers together with their entire teams. I commend the teams' combined efforts that have earned them a well-deserved place in the exclusive Ross 150 and 420 Clubs."
S.C. Avicola Tartasesti Poultry achieved an outstanding performance of 160.8 chicks per hen housed in 2022, earning the company the prestigious Ross 150 Club award for the second time in a row. At the event, Avicola Tartasesti General Manager Gabriela Nicolae expressed delight in celebrating the success of the company's breeder farmers and commended the growing membership of the Club, which "makes the competition more challenging each year. I look forward to next year's results and continuing the tradition of excellence in the poultry industry."
Congratulations to the latest Club members
Ross 150 Club:
| | | | |
| --- | --- | --- | --- |
| Company | Farm | Chicks per hen housed at 60 weeks | Year |
| S.C. Transavia S.A. | 17 Medias | 165.5 | 2021 |
| S.C. Oprea Avi Com SRL | Sincai | 155.5 | 2021 |
| S.C. Avicola Tartasesti Poultry | 9 | 151.8 | 2021 |
| S.C. Avicola Tartasesti Poultry SRL | 12 | 160.8 | 2022 |
| S.C. Transavia S.A. | 17 Medias | 159.6 | 2022 |
| S.C. Sum Agro Service S.R.L. | Bujor | 159.0 | 2022 |
| S.C. Oprea Avi Com SRL | Sincai | 156.0 | 2022 |
| S.C. Aaylex One SRL | Calarasi | 153.0 | 2022 |
Ross 420 Club:
| | | | |
| --- | --- | --- | --- |
| Company | Farm | EPEF | Year |
| S.C. Transavia S.A. | 21 Santimbru | 433 | 2021 |
| S.C. Avicola Focsani S.A. | 2 Focsani | 428 | 2021 |
| S.C. Oprea Avi Com SRL | Pogaceaua | 423.3 | 2021 |
| S.C. Avicola Focsani S.A. | 2 Focsani | 439 | 2022 |
| S.C. Vox Agri SRL | Amaru 1 | 425.6 | 2022 |