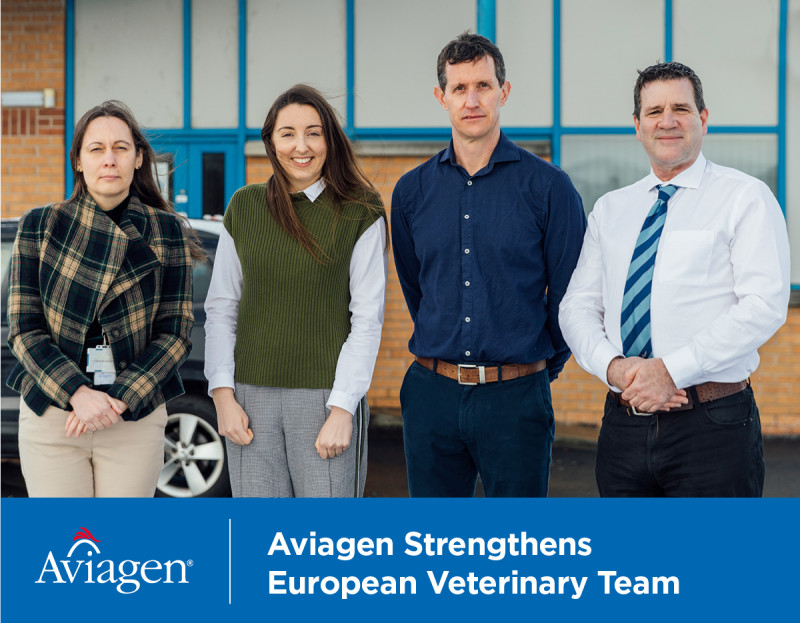 Committed to Bird Health and Welfare
EDINBURGH, Scotland. – In an ongoing effort to continually strengthen the health of internal as well as customer flocks, Aviagen® has restructured its longstanding European Veterinary team. The group now includes Colin Adams, Veterinary Health Director - Europe, along with Company Veterinarians Judith Reid, Charlotte Commins and Scott Dawson. These dedicated individuals work hard to ensure the health and biosecurity of internal flocks and the safe delivery of healthy, robust birds to customer farms. One way they contribute to security of supply to these producers is by providing veterinary support for export certification often promoting the benefits of regionalization and compartmentalization. (Read more about Aviagen's compartmentalization strategy.) Their support does not end there. They continue to provide specific customers in UK and Europe with advice and insight to optimize the health and welfare of their birds and safeguard food safety and security.
Colin Adams, Veterinary Health Director, Europe
For the past decade, Colin has worked to improve the health and quality of Aviagen internal flocks and help to assure seamless export and delivery of premium breeding chickens. He will now continue this effort with broader responsibilities as Veterinary Health Director for Europe. Before joining Aviagen, he served as a veterinarian for the UK government, giving him first-hand insight into the animal export process. He has built a team of highly skilled veterinarians who are passionate about caring for birds, and securing the supply of a safe, sustainable food source to families around the world.
Dedicated Company Veterinarians
New Company Veterinarian Charlotte Commins is an experienced veterinary surgeon, with a comprehensive understanding of the poultry industry. Before joining Aviagen, she served for seven years as a Senior Associate for Slate Hall Veterinary Practice in the UK, providing care to commercial poultry, including broilers, broiler breeders and commercial layers. Charlotte holds a Bachelor of Veterinary Medicine from the Royal Veterinary College in London, and is a current member of the British Veterinary Poultry Association.
New Company Veterinarian Scott Dawson is an experienced poultry veterinarian. Since moving to the UK in 2018, he has spent his time serving Poultry Health Services in Edinburgh, Scotland, looking after a number of Aviagen's key customers. Prior to moving to the UK, he worked for a large integrated poultry company in Australia and New Zealand. Scott holds a Bachelor of Veterinary Science from Massey University, New Zealand, and is a member of the Royal College of Veterinary Surgeons.
Judith Reid has been an Aviagen Company Veterinarian for seven years, where she works to enhance the health of Aviagen Europe's high-generation breeding stock, while also assisting with exports and biosecure compartments.
"Health, food safety and food security is a top commitment for Aviagen, and our strong veterinary team is the bedrock of this commitment and essential in protecting the integrity of the poultry supply chain," commented Blake Williamson, General Manager of Aviagen UK Limited.
"We welcome Charlotte and Scott and are confident they will be a great complement to our team of dedicated experts who truly care about bird health and welfare and helping our customers feed their communities. To ensure comprehensive care of all generations, the team will alternate between our Pedigree, Great Grandparent, Grandparent and hatcheries, and all will help facilitate a safe and secure export process. This strategy will ensure a flexible and robust veterinary resource for our internal operations and our customers," added Colin.