Team will be on hand to exchange knowledge and ideas with customers and visitors to the 2022 British Pig and Poultry Fair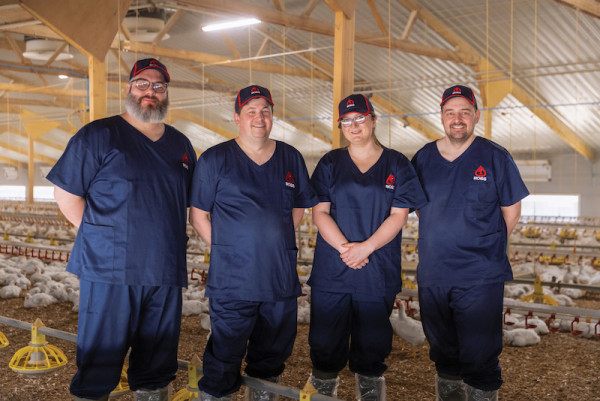 EDINBURGH, Scotland. – The Aviagen® UK Technical Service team looks forward to meeting UK customers and industry colleagues – for the first time since the beginning of the pandemic – in person at the 2022 British Pig and Poultry Fair, which takes place May 10-11 in Stoneleigh. Led by Stuart Thomson, Head of UK Sales and Technical, the team consists of Niamh Molloy, Kieron Daniels and the newest member, Toby Arkell.
Niamh, Kieron and Toby leverage their combined knowledge and expertise to strengthen the success of their customers throughout the United Kingdom and Scandinavia. They also collaborate with Aviagen's global teams of specialists to give customers the very latest advice to optimize their flock results.
"Bridging the gap between the UK poultry industry and the primary breeder, our diverse team supports our customers on their path of continuous improvement. Our annual Ross Parent Stock Flock Awards and our Ross 420 Club are among the ways we celebrate their achievements and champion their success," commented Stuart. "A top Aviagen commitment is 'Communication, Transparency and Engagement,' and we believe this value is essential to the sustainability of our customers and our industry. Whether meeting with customers at an industry fair or engaging with them in numerous ways throughout the year, our goal is to keep an open dialogue. We communicate the latest developments from our breeding program, while also using their input to continually enhance our breeding efforts."
The Aviagen "Your UK team" infographic tells the story of the team and depicts their commitment to customers and the success of the UK poultry industry.
And, read more about each team member on LinkedIn in the course of the following weeks.