Aviagen is committed to developing the future of the poultry industry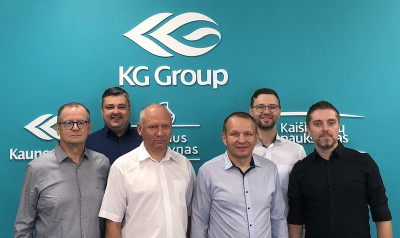 EDINBURGH, Scotland. – Aviagen® Kft customers continue to impress with their commitment to bird performance, welfare and sustainability. A first-rate example is AB Vilniaus Paukštynas, a Lithuanian poultry producer who has recently joined the elite Ross® 420 Club. The club is reserved for Ross customers who achieve a European Production Efficiency Factor (EPEF) performance score of 420 or greater with their broiler flocks.
"Aviagen Kft is pleased to welcome Vilniaus Paukštynas to the Ross 420 Club, said Balázs Takács, General Manager of Aviagen Kft. "They illustrate the performance heights possible when the genetic potential of the Ross bird is maximized by the commitment of a team of skilled farmers who have a passion for their birds and for feeding their local communities."
Hannu Tiuttu, Technical Service Manager for Aviagen, added, "We are happy to see these remarkable results from our customer Vilniaus Paukštynas. Through their hard work and care for their birds, they have managed to get the best from their Ross flocks."
"Our team is dedicated to animal welfare and quality. We work hard each day, introducing continuous farm improvements to ensure the welfare of the animals and the quality of the final product," added Darius Gudačiauskas, the CEO of Vilniaus Paukštynas.
Vilniaus Paukštynas shares sustainable production advice
According to Saulius Petkevičius, Head of Poultry Breeding at Vilniaus Paukštynas, animal welfare is the future of all poultry farming. "Efficient farming and bird well-being are key to the sustainability of our industry. Our company pays great attention to biosecurity and disease prevention. We continuously invest in infrastructure and employee training. With the help of smart farming tools, we monitor, record and analyze data about bird health, enabling us to proactively ensure they are raised with ideal conditions for their health and comfort.
Saulius explained that, during the past year, his company produced enough healthy, sustainable chicken meat to meet the needs of the Lithuanian poultry market without the use of antibiotics. "We are proud to be the first producers to offer antibiotic-free Lithuanian chicken."
He attributes this success to farming in a biosecure facility, and "having farmers who work exclusively for us and meet our high quality standards." In our Linas Agro Group, we have our own Parent Stock (PS), along with an incubator and fodder factory, which allows us to fully control the results of farming at all stages and concentrate on the health and impeccable quality of our one-day-old chicks. Compliance with EPEF standards also helps maximize efficiency and control expenses, especially given today's rising cost and scarcity of raw material and energy."
About Vilniaus Paukštynas
AB Vilniaus Paukštynas and AB Kaisiadoriu Paukštynas are a part of AB Linas Agro Group, one of the largest agricultural and food production companies in the Baltic region, operating through the whole production chain from field to table. The shares of Linas Agro Group are listed on the Nasdaq Vilnius Stock Exchange. Linas Agro has 73 companies with close to 5,200 employees.