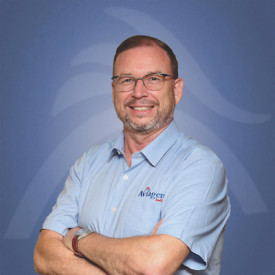 Udumalpet, India. – In an ongoing effort to strengthen service to customers and drive the growth of the increasingly popular Ross® 308 AP broiler breeder, Aviagen® India has appointed Ferry Monné as Head of Sales and Marketing. Ferry will report to Marc Scott, Aviagen India Business Manager.
Background of industry, business development expertise
A sales professional, Ferry joins Aviagen with a proven track record and a wealth of senior sales and sales operations experience in the poultry, automotive and IT industries.
Prior to joining Aviagen India, he partnered with a poultry equipment distributor in southeast Asia. Before that, he served as Business Development Manager, Asia and Oceania, for HATO Agricultural Lighting, where he successfully built up new markets, improved dealer performance and raised awareness of poultry-specific lighting equipment and technology. Originally from the Netherlands, he has spent the past 17 years working in India and Southeast Asia.
Welcoming him to the Aviagen India family, Marc said, "We are delighted to have Ferry on board, leading our drive to enhance the success of our valued customers and grow our business. He joins at a very exciting time for the India poultry industry – a time of rapid advancement, and Ferry and his sales team will be at the forefront, promoting the best breed and best practices to benefit all our customers."
"I am passionate about teamwork, serving customers and striving daily to implement continuous improvement for their benefit. I look forward to joining Aviagen India and working with my team to promote the health, welfare and performance of our customers' birds and further improving the bottom line of their businesses," added Ferry.