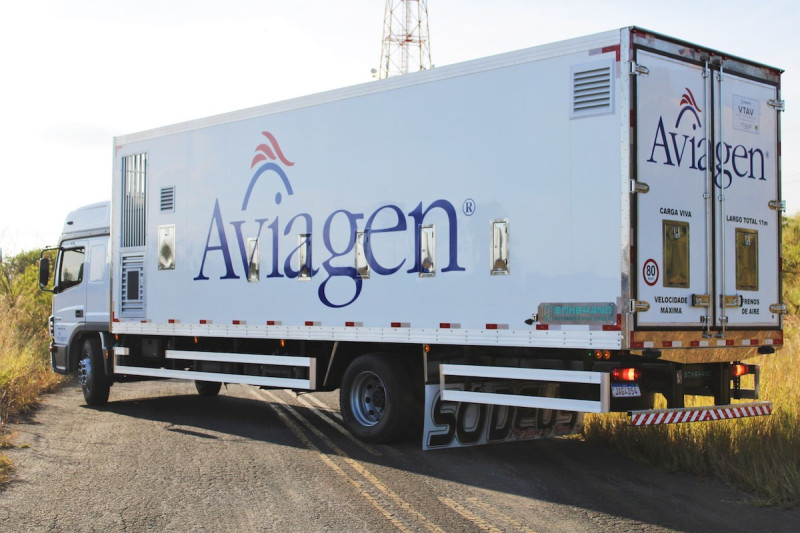 CAMPINAS, Brazil – Poultry breeding company Aviagen® continues a high level of investment in Brazil, where the demand for top-quality poultry breeding stock to produce a healthy source of protein for Latin American families continues to soar. To keep up with this growth, the company continually invests in infrastructure, and has recently added a modern, fuel-efficient, climate-controlled truck to its current fleet to transport Grandparent Stock and Parent Stock to farmers throughout the country.
The trucks also are designed with bird welfare in mind, with controls that enable the Aviagen Brazil team to remotely monitor conditions inside the trucks and make adjustments to keep the environment optimal for healthy birds.
According to Aviagen's Supply and Logistics Manager Edison Roberto Rios, Aviagen Brazil trucks, along with all its infrastructure, are designed with biosecurity, sustainability and bird welfare in mind. "Aviagen is committed to ensure the welfare and quality of our birds along each step of our journey to our valued customers. By adding this new truck, we are living our commitment to make sure they have a secure supply of breeding stock to feed their local communities with nutritious and sustainable chicken meat."
"Recent investments and the expansion and modernization of our infrastructure are the result of the company's rapid growth in recent years, with the aim to increase production capacity due to the high demand for Ross® 308 AP birds. Our actions are always to support our customers, as we work hand in hand with them on their journey of growth and success," concluded Leandro München, Director of Operations for Aviagen in Brazil.