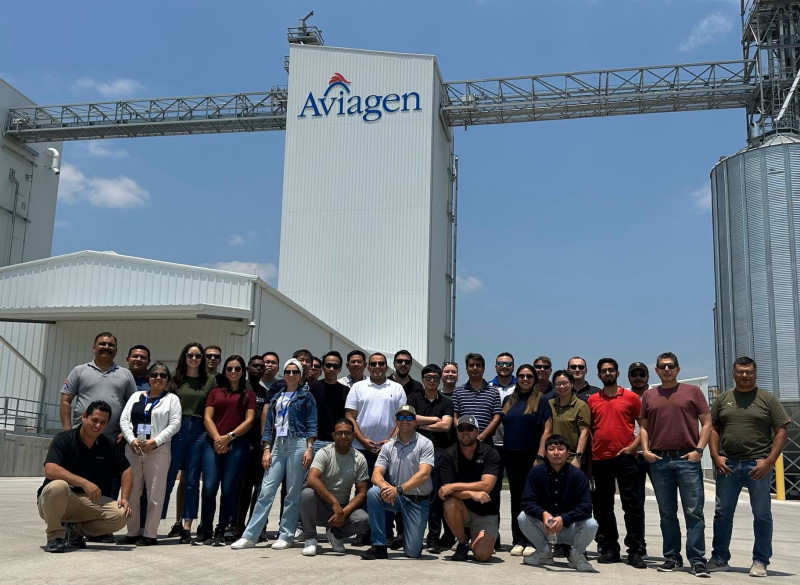 HUNTSVILLE, Ala. – Aviagen® North America has successfully concluded its 2023 Production Management School, which took place May 28-June 24 in Huntsville, Ala., US. The event brought together 32 students from 20 countries — all with a common goal of advancing their expertise in managing successful breeder and broiler operations. This year's edition was particularly significant as it celebrated the 60th anniversary of the School. Since its inception in 1963 in Connecticut, the School has expanded its reach, welcoming over 2,000 students from 100+ countries. Today, it stands out for its commitment to excellence and its global impact, contributing to the development of successful poultry professionals.
Enriching and innovative learning opportunities
The Production Management School offered a unique learning experience through an extensive curriculum that covered more than 35 topics. Students gained valuable insight into the latest best practices in poultry production, with a focus on enhancing broiler and breeder welfare, sustainability, and productivity, while increasing profitability. The comprehensive program included seminars, workshops, and field experiences, led by passionate experts from Aviagen and guest lecturers specializing in various areas such as veterinary care, nutrition, genetic research and development, production and farm management, and hatchery and incubation.
Innovative learning tools and hands-on practice played a significant role in this year's School. One notable innovation was Aviagen's remote customer service system, which used virtual reality/augmented reality glasses. This technology enabled students to virtually tour facilities that were restricted to protect their biosecurity.
Furthermore, students had the opportunity to engage in hands-on field experience at breeder and broiler facilities across Alabama. They participated in a platinum brooding trial at the Albertville Research and Training Facility, where they practiced specialized care for newly hatched chicks. They also honed their diagnostic skills through hands-on exercises at the Elkmont Veterinary Lab. Additionally, for the first time, students explored the Aviagen feed mill in Pikeville, Tenn., renowned as one of the world's most advanced feed processing facilities.
Power of diversity and networking
The School's strength lies in its diverse instructors and attendees, enabling students to gain insights from the varied experiences of their international peers. As students return to their respective operations armed with newfound knowledge, their impact multiplies as they share insights with colleagues, having a positive impact on the global poultry industry. Outside the classroom, students enjoyed multiple networking events, fostering connections and lifelong friendships.
Demonstrating excellence
Research shows that frequent testing boosts retention by reinforcing key learnings. That's why each year students take weekly tests, and at the end of the course, the highest scorers are acknowledged. Congratulations to this year's top achievers:
1st place: Kim Kyujik, Veterinarian for Cherrybro in Korea
2nd place: Carlos Collado, Production and Nutrition Manager, San Fernando S.A., Peru
3rd place: Muhammad Yasir Sarosh, Director Quality Feeds, Quality Poultry Breeders, Pakistan
3rd place: Caroline Braga, GPS Production Coordinator, Aviagen Brazil
"We are proud of our 2023 top achievers and the outstanding engagement and knowledge-sharing among all our students," said Wouter "Woody" Lassauw, Aviagen's Commercial Support Manager. "Their passion and ingenuity will shape the future of our industry and contribute to its global sustainability. We extend a special thank you to Caroline Lumb, Marketing Generalist, and Taylor Davis, Digital Marketing Specialist, for their tireless dedication in making the School a resounding success."
Charting a path to success
"Knowledge and learning play a vital role in driving the success of our industry. Our North America Production Management School is dedicated to shaping the future by embracing technology and offering exceptional practical experiences that empower students to thrive as industry professionals and leaders," remarked Marc de Beer, President of Aviagen North America. "Through fostering collaboration and embracing our 'breeding success together' philosophy, our students are forging a path towards a prosperous future."
Through the students' lenses
Reflecting on the school experience, Ruan Germishuizen, SNR Operations Manager, Supreme Poultry, Country Bird Holdings, South Africa, expressed his gratitude for the opportunity to be part of the 60th Production Management School. "The school has exceeded my expectations, with abundant information shared in all aspects of the industry from all parts of the world, and it was eye opening to see how other countries operated and how we compared to them. The School was able to strike a balance between engaging those without prior experience, while challenging seasoned professionals."
"I appreciated the level of detail and clear understanding of management advice that will ultimately lead to improved output, results and profitability. All in all, I would describe my Aviagen Production Management School experience as a beautiful, unforgettable journey of learning and friendships," added Muhammad Yasir Sarosh, Director Quality Feeds, Quality Poultry Breeders.
For more information about the Aviagen Production Management School, please visit Aviagen Production Managment School.