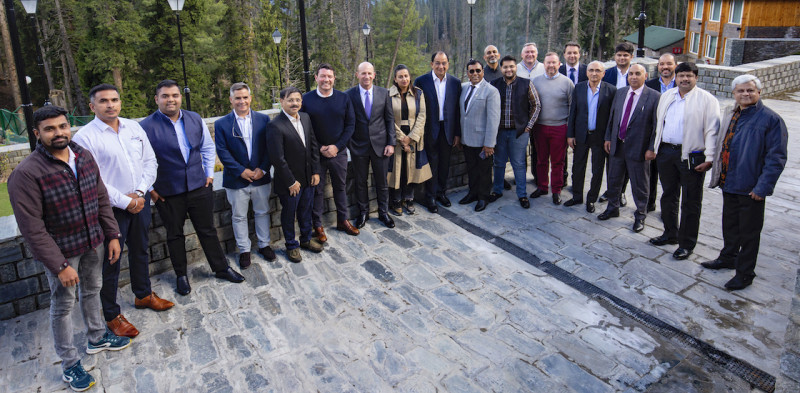 Udumalpet, India. – Aviagen® India recently hosted its much-awaited annual leadership summit in the scenic city of Gulmarg in Kashmir, India, from April 23 to 25. The summit brought together key company and regional leaders and esteemed customers, who engaged in important conversations on the current and future trends and opportunities in the industry.
Showcasing growing performance, popularity of Ross 308 AP
The spotlight of the event was on the Ross® 308 AP broiler, which continues to gain in popularity as it helps boost the success of producers with its feed efficiency, environmental resilience and robustness. The attendees discussed strategies to strengthen the breed's position in the market, leveraging its excellent performance, health and welfare.
Attendees were welcomed by Aviagen CEO Jan Henriksen and Asia President Peter Fisher, who presented a regional update. India Business Manager Marc Scott provided benchmarking results, while Genetics Director Santiago Avendano gave an insightful update on the bird's recent genetic development. Head of Global Nutrition Services Marcelo Silva also shared his expertise on achieving optimal nutrition. Both Avendano and Silva outlined a roadmap showcasing the consistent advancement in performance capabilities of the Ross 308 AP broiler, highlighting annual enhancements in feed efficiency and daily weight gain.
Unique insight from esteemed customers
Rupert Claxton, a consultant from Gira, gave insight into the global meat industry, with a focus on the market in India, and Michael Longley from Food Chain Enterprises shared his valuable expertise on various processing practices.
Scott expressed his excitement at the opportunity to meet with Aviagen colleagues and customers after a one-year hiatus due to COVID. "The poultry industry in India is evolving and modernizing, and Aviagen is committed to continuous investment to strengthen our operations and support this dynamic and crucial region," he remarked. "The 2023 summit was a resounding success, enabling industry leaders to connect, share ideas, and chart the path forward. Aviagen remains committed to driving innovation and excellence in the industry, providing customers with the best-possible products and services to meet their evolving needs."